WHISKEY

With our dedication to using the finest ingredients with no artificial flavors, and using the cleanest water that is triple filtered. Our spirits reflect the uncompromising efforts of a team of gifted distillers and blenders. Our vodkas and whiskey's use Florida corn and we have been awarded the Fresh From Florida designation by the Department of Agriculture.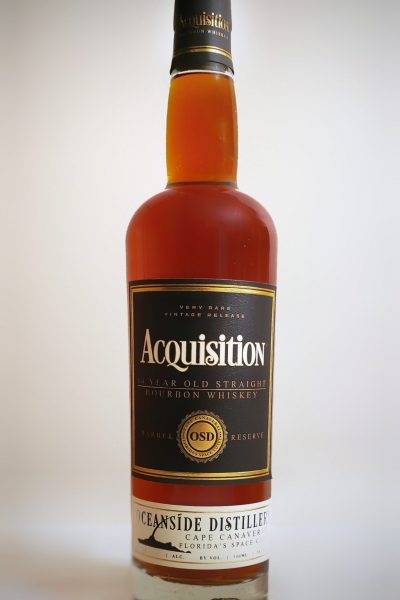 The entire first release of this Bourbon was handcrafted from a Private Reserve, each barrel was had selected from a collection of 25 barrels, and then bottled on Florida's Space Coast.
With notes of corn sweetness, Butterscotch and Vanilla and a bit of spice this Bourbons seems to linger on the palette, oak is present but gentile on its assertiveness.
A testament to the care and experience in creating this first release.
Our Florida bourbon is produced in very small batches of up to six barrels, which is the result of the distillation from only one of our 550 gallon fermenters at a time. This process seems to gather more complexity in the barrels that are the product of a single fermentation.
The result is a true small batch bourbon that was aged in New American Oak barrels. With just the right amount of toasting and char, creating a flavor rich whiskey, that is layered with hints of maple, cinnamon, vanilla, and ripe fruit.
86 Proof, 43% ALC/VOL
We are proud to announce Odysea won the 2023 Ascot Awards for American Spirits! Click the gold medal above to see the award on Ascot's official website.
odysea Double Oaked Bourbon
Double Oaked is our same Florida bourbon given a second finish in barrels that have been toasted twice as long but charred more lightly than other casks. The results are a great smooth flavor with hints of butterscotch, caramel, and vanilla coupled with the sweetness from the corn.
The result of the Double Barrel experiment is a smooth flavor with hints of butterscotch, caramel, vanilla, and light chocolate, coupled with a subtle sweetness from the corn.
90 Proof, 45% ALC/VOL
odysea Straight Rye Whiskey
Odysea Straight Rye Whiskey is 95% midwestern rye, distilled and finished in New American Oak barrels, our distiller curated this whiskey from a selection of private barrels, and hand selected each one. It has the smoothness of a well-aged whiskey that adds zest to any cocktail.
Try it neat or in a Manhattan.
100 proof, 50% ALC/VOL
Oceanside Florida Honey Whiskey
Our distiller has infused the smoothness of an aged light whiskey with a sweet natural honey flavor, and the results are amazing! Try this outstanding flavored whiskey chilled, on the rocks, or mixed in a cocktail. 
70 Proof, 35% ALC/VOL