Things to do in Cocoa Beach | Distillery Tours
Experience Premium Craft Spirits that are uniquely Florida
Make your reservation for the Distillery Tour and Craft Cocktail Tasting! Our spirit guides will educate you on the entire grain to bottle process of our distillery and explain just what makes Oceanside Distillery spirits unique!
Craft Cocktail Bar Cape Canaveral
Come Visit Our Craft Cocktail Bar
Come in and enjoy our hand-crafted cocktails carefully created by our mixologist. We bring a little culinary inspiration to our cocktails, and we hope you stop in to experience what we have to offer.
Wednesday & Thursday 3:00 - 8:00
Friday & Saturday 2:00 - 9:00
Sunday 1:00 - 6:00
Oceanside Distillery | Cocoa Beach, Florida
The Story behind Oceanside Distillery
The story of Oceanside doesn't begin with 100 year old recipes, or generations of family in the distilling business, It started with two brothers with a dream of making craft spirits on Florida's Space Coast using the very best Florida and regionally sourced ingredients, the best oak barrels, and some of the most technically advanced distilling equipment.
Things to do in Cocoa Beach, Oceanside Distillery
Locally Distilled Spirits on the edge of Port Canaveral
Oceanside Distillery is producing and blending a wide range of quality spirits. We are open about the way we produce all of our spirits, whether they are our in house distilled vodkas, rums, or whiskeys. Each are made with dedication and care in every step of the process, and that rewards you with flavors and textures that are uncommon to mass produced products.
WEEKEND HAPPY HOUR
SPECIALS
Join us every Saturday and Sunday from 4pm-6pm for our Weekend Happy Hour specials.
$6 Spicy Pineapple Daiquiris
$6 Dirty Martini
$8 Oceanside Bourbon and Ginger Ale
HAPPY HOUR
$5 VODKA MARTINI'S
Now featuring $5 vodka martinis on Wednesday-Friday from 4pm-6pm!!
Experience a rotating menu of our craft martinis made with our very own corn-based vodka!
Our vodkas and whiskey's use Florida Corn and we have been awarded the Fresh From Florida designation by the Department of Agriculture.
Our whiskeys are distilled from Florida corn or midwestern rye and aged in New American Oak barrels.
Our rums are made from the all-natural sugar cane juice, and a proprietary yeast formulated especially for Oceanside Distillery rum.
Using the finest ingredients, nothing ever artificial and the cleanest water that is triple filtered, our spirits reflect the uncompromising efforts.
Craft Cocktail Bar at Oceanside

Enjoy small plates along with our craft cocktails
If you are searching for things to do in Cocoa Beach, head on up to the port and see if we can level up your favorite drink with a premium, locally distilled liquor. We have cocktails you won't forget and food to compliment them. Come in and try a Toasted Coconut cocktail and pair it with our mini crab cakes or Call Me Old Fashioned with our loaded tater tots (you can't go wrong with beer cheese and pulled pork). We are the only distillery in the area so come check us out!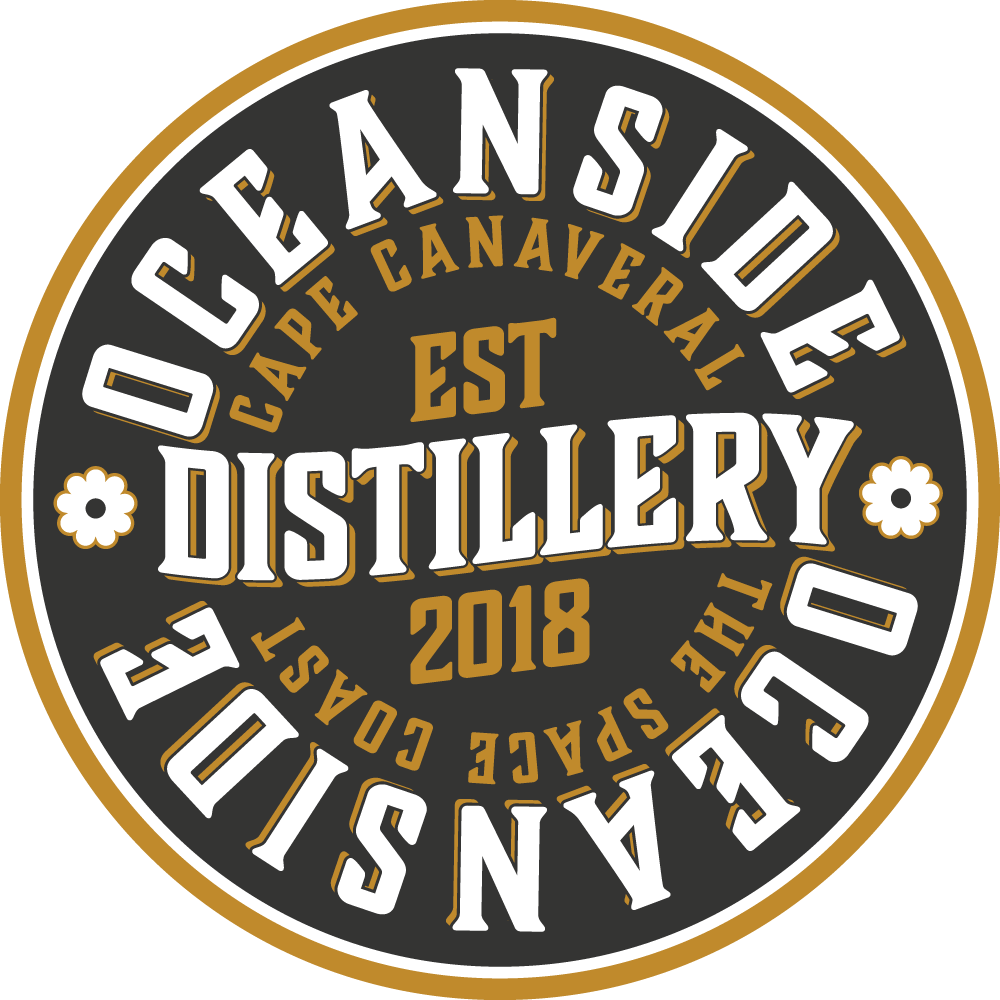 PLEASE CLOSE THE BOX TO VERIFY THAT YOU ARE OVER 21 YEARS OLD.


OTHERWISE PLEASE CLICK THE LINK BELOW